Air Quality, Severe Weather, and Heat Safety Information
---
---
AIR QUALITY
There is a special air quality statement in effect for Winnipeg and the surrounding areas today. Below is the following statement from the Government of Canada.
Statements
8:25 a.m. CDT Wednesday 17 May 2023
Special Air Quality Statement in effect for:
Rapidly deteriorating air quality today.
A cold front sweeping through much of the province this morning will bring extensive smoke from wildfires in the west. Conditions will swiftly deteriorate behind the front bringing very poor air quality and reduced visibility. AQHI values of very high risk are expected due to highly elevated PM2.5 concentrations.
The smoke is expected to move into the Red River Valley near noon.
Air quality and visibility due to wildfire smoke can fluctuate over short distances and can vary considerably from hour to hour.
Conditions should improve across the entirety of southern Manitoba by Thursday morning as the plume of smoke exits the province and heads into the United States.
Wildfire smoke can be harmful to everyone's health even at low concentrations. Everyone can take action to reduce their exposure to wildfire smoke.
People with lung disease (such as asthma) or heart disease, older adults, children, pregnant people, and people who work outdoors are at higher risk of experiencing health effects caused by wildfire smoke. Speak with your health care provider about developing a management plan for wildfire smoke events and maintaining a supply of necessary medications at home and always carrying these medications with you during wildfire season.
Stop or reduce your activity level if breathing becomes uncomfortable or you or someone in your care feel unwell. Contact your health care provider or local health authority if you develop severe symptoms or need advice.
Check the Air Quality Health Index (AQHI) and monitor your symptoms. People respond differently to smoke. Mild irritation and discomfort are common, and usually disappear when the smoke clears. Drinking lots of water can help your body cope with the smoke.
If you have an HVAC system in your home, use the highest rated MERV filter for your system (ideally rated 13 or higher) and set the fan to recirculate air constantly. You can also use a portable High Efficiency Particulate Air (HEPA) air cleaner. Keep your doors and windows closed if the temperature in your home is comfortable.
Take a break from the smoke at a location in your community where you can find clean, cool air.
If you must spend time outdoors, a well-fitted respirator type mask (such as a NIOSH certified N95 or equivalent respirator) that does not allow air to pass through small openings between the mask and face, can help reduce your exposure to the fine particles in smoke. These fine particles generally pose the greatest risk to health. However, respirators do not reduce exposure to the gases in wildfire smoke. It is important to listen to your body and reduce or stop activities if you are experiencing symptoms.
Be sure to check on people in your care and those around you who may be more susceptible to smoke.
Reduce sources of indoor air pollution. If you can, avoid smoking or vaping indoors, burning incense and candles, frying foods, using wood stoves and vacuuming. Dust on indoor surfaces can be removed by wiping and wet mopping during a pollution episode.
If you experience any feelings of stress, anxiety, or depression, contact your mental health care provider for advice or visit https://www.wellnesstogether.ca/en-CA.
Visit www.airhealth.ca for information on how to reduce your health risk and your personal contribution to pollution levels, as well as for current and forecast AQHI values.
Please continue to monitor alerts and forecasts issued by Environment Canada.
Issued by Environment Canada and Manitoba Health
---
SEVERE WEATHER POLICY
To follow up the Air Quality Statement, we'd also like to remind our community of our Severe Weather Policy: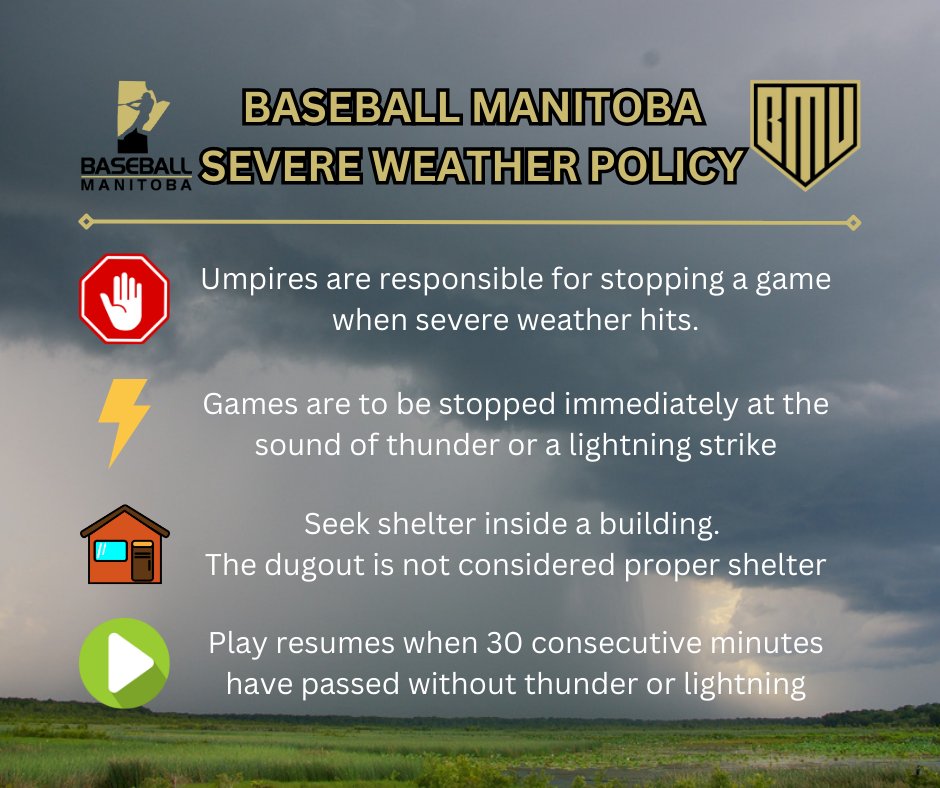 Photo Source
---
HEAT SAFETY
With the summer months approaching, everyone must also be mindful of their heat safety. Find more information below: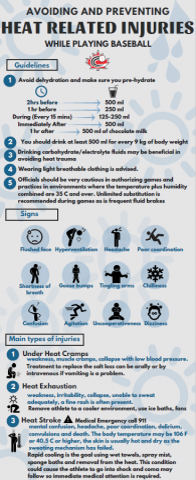 Proper Hydration to AVOID AND PREVENT HEAT RELATED INJURIES WHEN PLAYING BASEBALL
There are some simple guidelines which have been prepared by the American College of Sports Medicine (ACSM) when it comes to activities in a hot and/or humid environment. The goal in participating in hot weather is to avoid fluid loss from the body or dehydration. Water not only accounts for some 98% of our body composition, but functions to help deliver oxygen to working muscles, and keeps the body from overheating during strenuous activity. Hard working muscles generate heat which is dissipated through the act of sweating. Evaporation of sweat on the skin allows the body to get rid of this heat and cool it off.
Avoid dehydration and make sure you pre-hydrate: Don't wait till you feel thirsty because the body will not be able to tell you in time that you are dehydrated, here are some practical recommendations:



2 hours before exercise, drink at least 16 oz or 500 ml (an average bottle of water)
1 hour before exercise, drink at least 08 oz or 250 ml (half an average bottle of water
During the exercise, drink at least 4 to 8 oz every 15 - 20 minutes
Immediately after the exercise, drink at least 16 oz or 500 ml of water or an electrolyte replacing drink
1 hour after a training session or game consider drinking 16 oz or 500 ml of skim milk or chocolate milk for protein and muscle repair
As a rule of thumb you should drink at least 500 ml for every 9 kg of body weight, therefore, someone weighing 140 lbs needs to drink at least 3500 ml of fluid per day if training or playing that day.
Drinking carbohydrate and electrolyte fluids may be beneficial in avoiding heat trauma.
Wearing light breathable clothing is advised.
Officials should be very cautious in authorizing games and practices in environments where the temperature plus humidity combined are 35 C and over. They should inquire of the participants to ensure pre-event hydration, medication use and susceptibility to heat injury ( prior occurrence). Also unlimited substitution is recommended during games as is frequent fluid brakes..
Find more Heat Safety info here.