Air Quality, Severe Weather, and Heat Safety Information
---
---
AIR QUALITY
There is currently no special air quality statement in effect for Winnipeg and the surrounding areas. Below is some information from the Government of Canada on the Air Quality Health Index.


---
SEVERE WEATHER POLICY
To follow up the Air Quality Statement, we'd also like to remind our community of our Severe Weather Policy: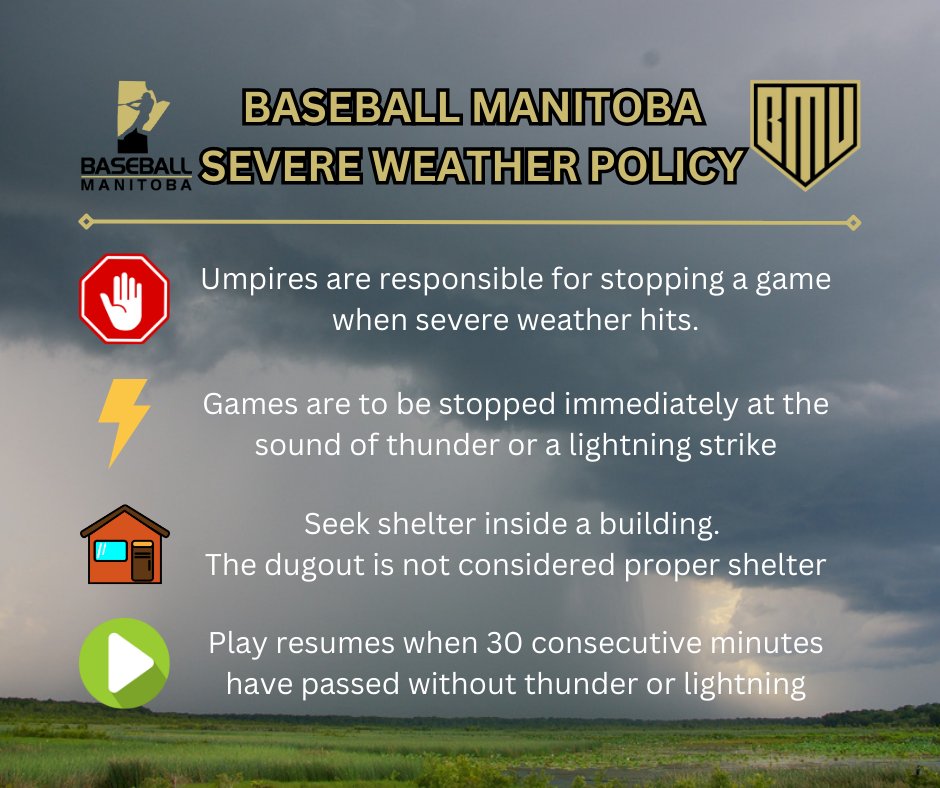 Photo Source
---
HEAT SAFETY
With the summer months approaching, everyone must also be mindful of their heat safety. Find more information below: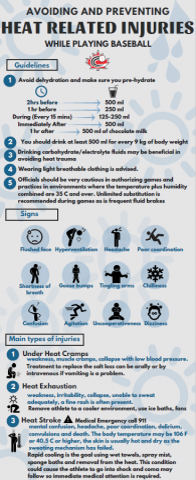 Proper Hydration to AVOID AND PREVENT HEAT RELATED INJURIES WHEN PLAYING BASEBALL
There are some simple guidelines which have been prepared by the American College of Sports Medicine (ACSM) when it comes to activities in a hot and/or humid environment. The goal in participating in hot weather is to avoid fluid loss from the body or dehydration. Water not only accounts for some 98% of our body composition, but functions to help deliver oxygen to working muscles, and keeps the body from overheating during strenuous activity. Hard working muscles generate heat which is dissipated through the act of sweating. Evaporation of sweat on the skin allows the body to get rid of this heat and cool it off.
Avoid dehydration and make sure you pre-hydrate: Don't wait till you feel thirsty because the body will not be able to tell you in time that you are dehydrated, here are some practical recommendations:



2 hours before exercise, drink at least 16 oz or 500 ml (an average bottle of water)
1 hour before exercise, drink at least 08 oz or 250 ml (half an average bottle of water
During the exercise, drink at least 4 to 8 oz every 15 - 20 minutes
Immediately after the exercise, drink at least 16 oz or 500 ml of water or an electrolyte replacing drink
1 hour after a training session or game consider drinking 16 oz or 500 ml of skim milk or chocolate milk for protein and muscle repair
As a rule of thumb you should drink at least 500 ml for every 9 kg of body weight, therefore, someone weighing 140 lbs needs to drink at least 3500 ml of fluid per day if training or playing that day.
Drinking carbohydrate and electrolyte fluids may be beneficial in avoiding heat trauma.
Wearing light breathable clothing is advised.
Officials should be very cautious in authorizing games and practices in environments where the temperature plus humidity combined are 35 C and over. They should inquire of the participants to ensure pre-event hydration, medication use and susceptibility to heat injury ( prior occurrence). Also unlimited substitution is recommended during games as is frequent fluid brakes..
Find more Heat Safety info here.