Truth and Reconciliation in Baseball
---
The Government of Canada's Truth and Reconciliation Commission (TRC) has created Calls to Action specific to sport. They are numbered 87 thorough 91:
Sports and Reconciliation
87. We call upon all levels of government, in collaboration with Aboriginal peoples, sports halls of fame, and other relevant organizations, to provide public education that tells the national story of Aboriginal athletes in history.
88. We call upon all levels of government to take action to ensure long-term Aboriginal athlete development and growth, and continued support for the North American Indigenous Games, including funding to host the games and for provincial and territorial team preparation and travel.
89. We call upon the federal government to amend the Physical Activity and Sport Act to support reconciliation by ensuring that policies to promote physical activity as a fundamental element of health and well-being, reduce barriers to sports participation, increase the pursuit of excellence in sport, and build capacity in the Canadian sport system, are inclusive of Aboriginal peoples.
90. We call upon the federal government to ensure that national sports policies, programs, and initiatives are inclusive of Aboriginal peoples, including, but not limited to, establishing: i. In collaboration with provincial and territorial governments, stable funding for, and access to, community sports programs that reflect the diverse cultures and traditional sporting activities of Aboriginal peoples. ii. An elite athlete development program for Aboriginal athletes. iii. Programs for coaches, trainers, and sports officials that are culturally relevant for Aboriginal peoples. iv. Anti-racism awareness and training programs.
91. We call upon the officials and host countries of international sporting events such as the Olympics, Pan Am, and Commonwealth games to ensure that Indigenous peoples' territorial protocols are respected, and local Indigenous communities are engaged in all aspects of planning and participating in such events.
Baseball Manitoba is committed to the efforts set forth in these Calls to Action and is working towards reconciliation.
---
Baseball Manitoba Land Acknowledgement
Baseball Manitoba would like to acknowledge that we operate programs and services on Treaty 1, 2, 3, 4 and 5 Territory, the traditional lands of the Anishinaabe (Ojibwe), Ininew (Cree), Ojibwe-Cree, Dene and Dakota and is the National Homeland of the Red River Métis. Baseball Manitoba respects the Treaties that were made on these territories, acknowledges the harms and mistakes of the past, and we dedicate ourselves to learn and move forward in partnership with Indigenous communities in a spirit of reconciliation and collaboration. We welcome all nations to baseball activities, programs, and community with acceptance and through the spirit of sportsmanship and the game.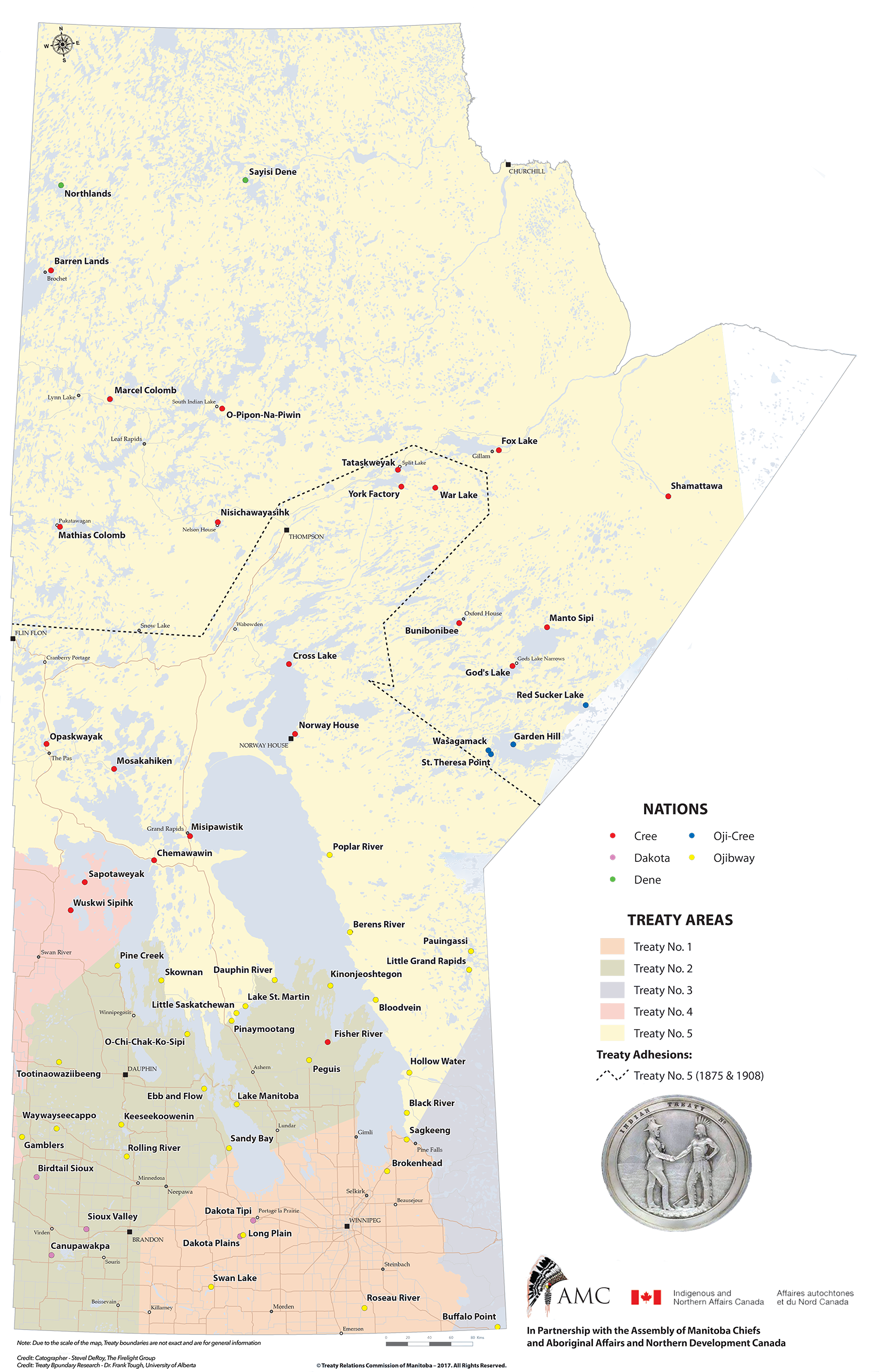 ---
Indigenous Community Development Program
The Indigenous Community Development Program is a new program for 2023. The purpose of this program is to connect us with Indigenous communities and deliver baseball programming while also building rapport with local people. This program is a result of our strive for Truth and Reconciliation in baseball.
In 2022, Baseball Manitoba applied for two sport grants, one through the Province of Manitoba's Arts, Culture, and Sport in Community (ACSC) Fund and one through the Canadian Parks and Recreation Association (CPRA). We received a grant of $25,000 for Phase 1 of Indigenous community baseball development from the ACSC fund and another $25,000 from the CPRA (Government of Canada funding via the Community Sport for All Initiative) for a total of $50,000. All of us at Baseball Manitoba are proud to be a part of this significant investment in sport, and we are currently delivering Phase 1 while also working towards the beginning of Phase 2.
Find more information, including a downloadable info page (English and French versions available), on our Indigenous Community Development Program page.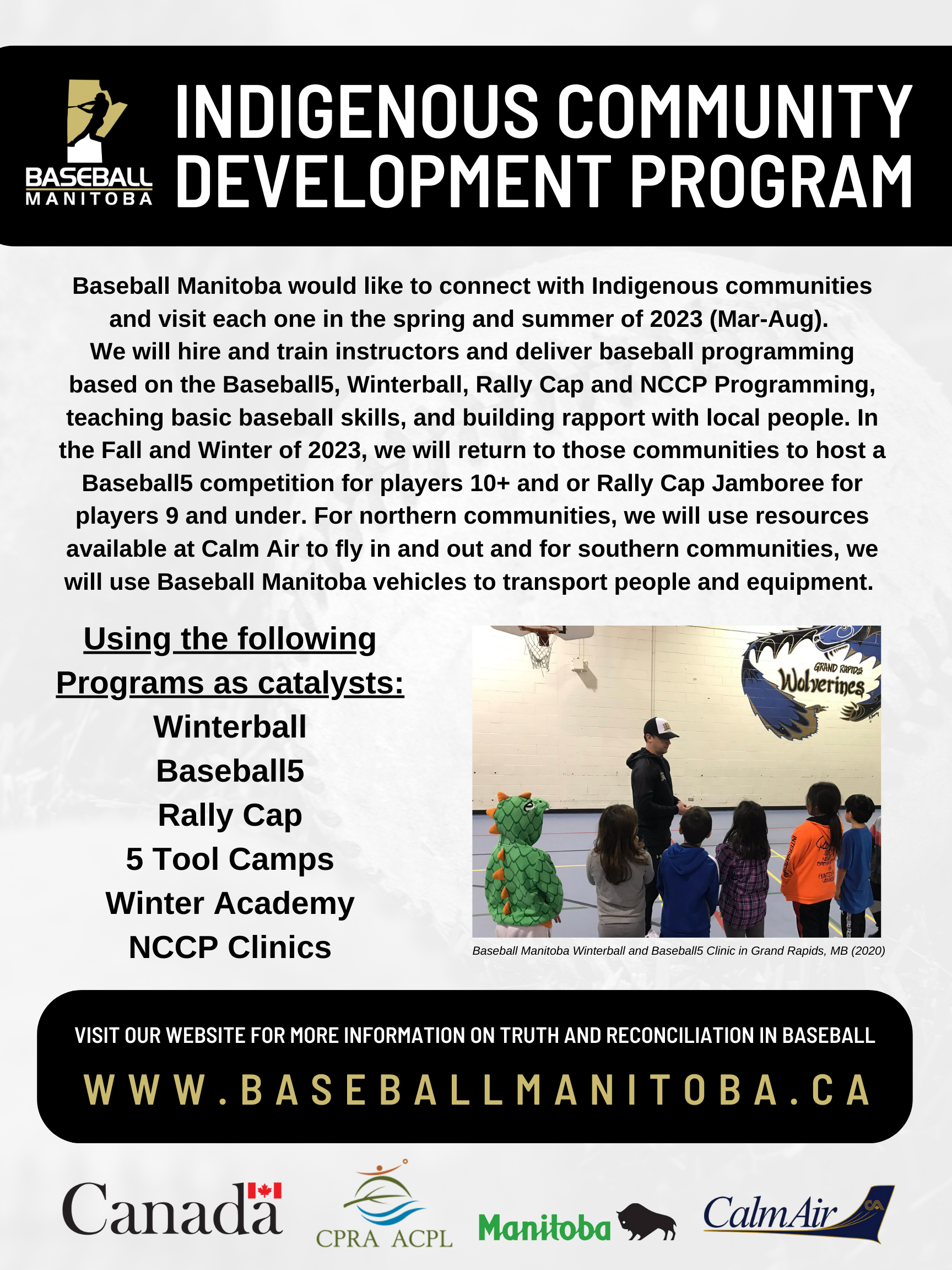 ---
Manitoba Aboriginal Sport and Recreation Commission (MASRC)

MASRC is Provincial Sport Organization within Sport Manitoba dedicated to the promotion of sport and recreation for all First Nation, Metis and Inuit people in Manitoba. See the links below for more details.
MASRC Website
MASRC HOF

MASRC Facebook
MASRC Twitter
MASRC Instagram

Sport and Reconciliation Brochure
Click here to visit Sport Manitoba's Indigenous Resource page.

---
National Day for Truth and Reconciliation
September 30, 2021 marked the first National Day for Truth and Reconciliation. This day, September 30th, honours the lost children and Survivors of residential schools, their families and communities.
Public commemoration of the tragic and painful history and ongoing impacts of residential schools is a vital component of the reconciliation process. We are working towards truth and reconciliation not only on September 30th, but every day. The ongoing strong and painful impact of residential schools is apparent, and the reflection of this history is essential to the reconciliation process.
The creation of this federal statutory holiday was through legislative amendments made by Parliament. On June 3, 2021, Bill C-5, An Act to amend the Bills of Exchange Act, the Interpretation Act and the Canada Labour Code (National Day for Truth and Reconciliation) received Royal Assent.
---
Orange Shirt Day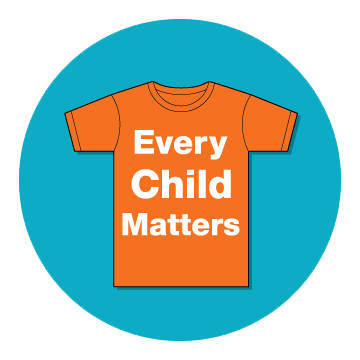 Both the National Day for Truth and Reconciliation and Orange Shirt Day take place on September 30.
Orange Shirt Day is an Indigenous-led grassroots commemorative day that honours the children who survived residential schools and remembers those who did not. This day relates to the experience of Phyllis Webstad, a Northern Secwepemc (Shuswap) from the Stswecem'c Xgat'tem First Nation, on her first day of school, where she arrived dressed in a new orange shirt, which was taken from her. It is now a symbol of the stripping away of culture, freedom and self-esteem experienced by Indigenous children over generations.
On September 30, we encourage all Canadians to wear orange to raise awareness of the very tragic legacy of residential schools, and to honour the thousands of Survivors.
---
Resources and Education
Crisis Line for Residential School Survivors: 1-866-925-4419
The Hope for Wellness Help Line: 1-855-242-3310
MMIWG Crisis Line 1-844-413-6649