Baseball Manitoba Code of Conduct Reminder
---
---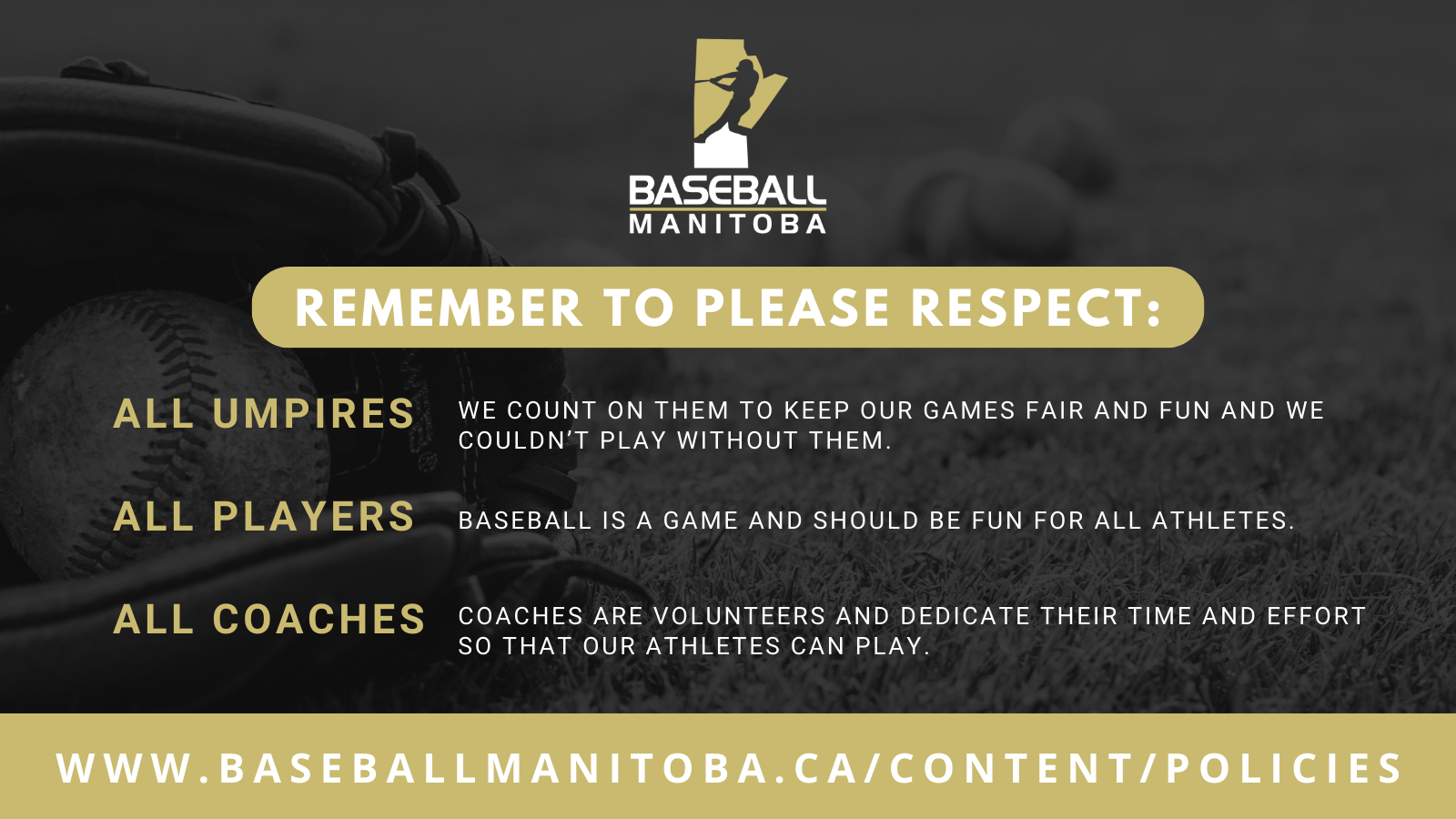 All of us at Baseball Manitoba want to ensure that our community is a safe and positive place for all. We support equal opportunity for all and are committed to creating an environment in which all individuals are treated with respect. Below is a reminder of the expectation of appropriate behaviour consistent with our mission and objectives.
Remember to please respect:
All umpires. We count on them to keep our games fair and fun and we couldn't play without them.
All players. Baseball is a game and should be fun for all athletes.
All coaches. Coaches are volunteers and dedicate their time and effort so that our athletes can play.
Every member of our community is responsible for following our Code of Conduct and Ethics Policy. Learn more about how you can help create a respectful and inclusive environment for all below.
Treat

everyone

with dignity and respect.

Everyone, including athletes, coaches, volunteers, parents, umpires, maintenance crew members, and more, deserves to be treated with respect regardless of their body type, physical characteristics, athletic ability, gender, ancestry, ethnic origin, race, place of origin, sexual orientation, age, marital status, religion, political belief, disability, or economic status.


Demonstrate sportsmanship and sport leadership

Have respect for your opponents and graciousness in winning or losing. Treat everyone fairly and reasonably.


Prevent discrimination.

Act, when appropriate, to correct or prevent discriminatory practices.


Don't harass anyone.

Harassment is defined as comments or conduct directed towards an individual or group, which is offensive, abusive, racist, sexist, degrading, or malicious. Types of behaviour that constitute harassment include, but are not limited to:

Written or verbal abuse, threats, or outbursts
Bullying
Discrimination
Unwelcome remarks, jokes, comments, innuendo, or taunts
Leering or other suggestive or obscene gestures
Condescending or patronizing behaviour which is intended to undermine self-esteem, diminish performance or adversely affect working conditions
Practical jokes which cause awkwardness or embarrassment, endanger a person's safety, or negatively affect performance
Any form of hazing
Retaliation or threats of retaliation against an individual who reports harassment to the Association
Offensive or intimidating phone calls or emails
Words or actions which are known or should reasonably be known to be offensive, embarrassing, humiliating, demeaning, or intimidating
We count on our community members to help us create the positive and inclusive environment we strive for. We want to thank everyone for their dedication and cooperation.
For more information about our Code of Conduct and Ethics Policy, click here.
Follow us on

Twitter

,

Instagram

, and

Facebook

to stay informed on all Baseball Manitoba topics.